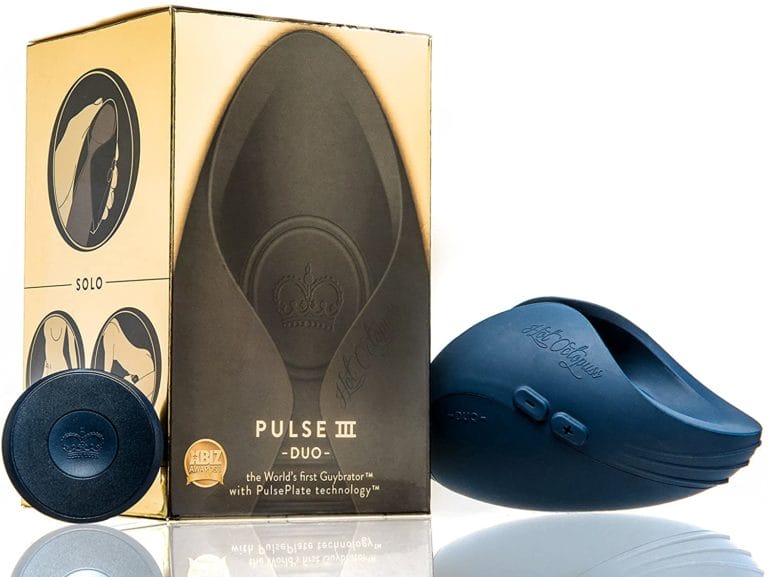 THE GUYBRATOR IS THE ULTIMATE PENIS PLEASURER
I have been a fan of Hot Octopuss since the launch of the Guybrator. I was excited to review the latest Pulse III. My first impression was the similarity in design to the original including the functionality and button control. The new updates included the color. The original was grey. This one was a gorgeous navy color. The deep tone of blue added to the luscious design including ridges across the base interior with an oscillating vibration that sends waves of sensation through the body. There is a steady and sensual vibration that can be used with self-stimulation or partnered play. 
I hear from people all the time about the need for more penis products in the sexual health industry. The Guybrator dominates the market as a multifunctional device that can be used alone or with a partner(s). Variation and play options are qualities that I look for in devices to recommend to clients. Here are some of the features I liked:  
Oscillating vibration including different vibration patterns and intensity levels.

Masturbation sleeve and exerciser that could be used for erectile concerns and enhancing pleasure with a partner. 

The shape is smooth and comfortable with an easy grip with one hand. 

Can give and receive pleasure while wearing the device. Use the device to stimulate a partner with a massage or have a partner massage their body against the device in different positions. 
Any device you use for sexual pleasure requires experimenting and finding your preferences. I am happy that Hot Octopuss made a device that focuses on varying masturbation styles for people. Using a device adds variation in sensation and more mind-body connection during self-pleasure. I would recommend using the product using these tips:
Use lubrication for extra glide and added sensation.

Practice using it with the dominant and non-dominant hands.

Start with the lowest vibration intensity and work up slowly to different intensity levels and vibrational patterns. 

Try it solo first before incorporating it with a partner to get a feel for how to hold it and position it for optimal comfort.
Overall, I think this is the perfect device for enhancing masturbation, improving your sexual response by strengthening arousal and stimulation, and can work as an exerciser to improve sexual conditions such as erectile dysfunction and delayed ejaculation. It also adds variety to partnered play.